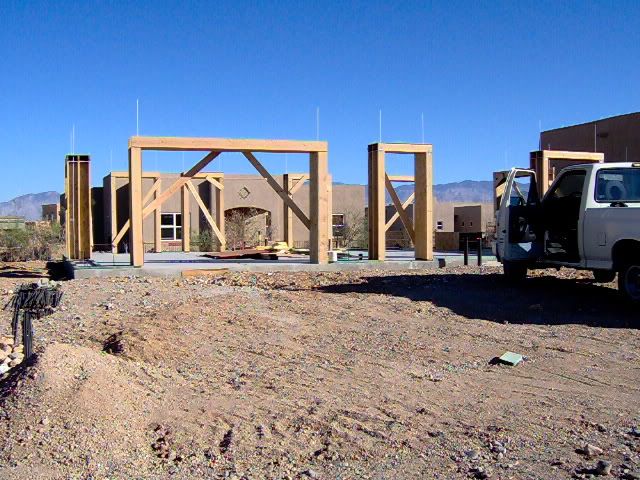 Finishing the Window Bucks
The picture on the right shows the
window bucks
completed. The large one far left is a 6 ft slider with 2 smaller windows on either side. This will take advantage of the solar gain in the winter. We expect not to use any other heat source in the winter. The windows will be shaded in the summer to cut down on heat gain which is the bigger challenge in the Sonoran desert.

This is the sill plate moisture barrier built to code. Pea gravel will fill in the space between the 2x4s. Jutting up from the slab are the rebar stabbers onto which the first course of bales will be placed.

This is headless Sam.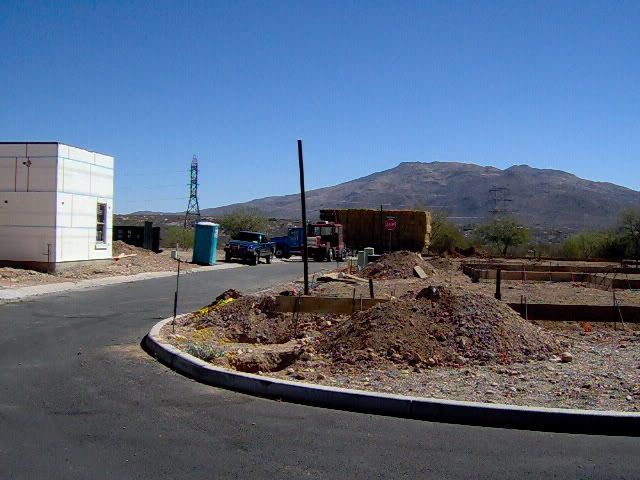 The Bales Arrive

The truck arrived and unloaded the 260 bales in about 20 minutes! They are unloaded by the "Squeeze"; no manual labor involved at this point. The bales originated in
Tacna, AZ
just east of Yuma in the Mohawk Valley.
The Squeeze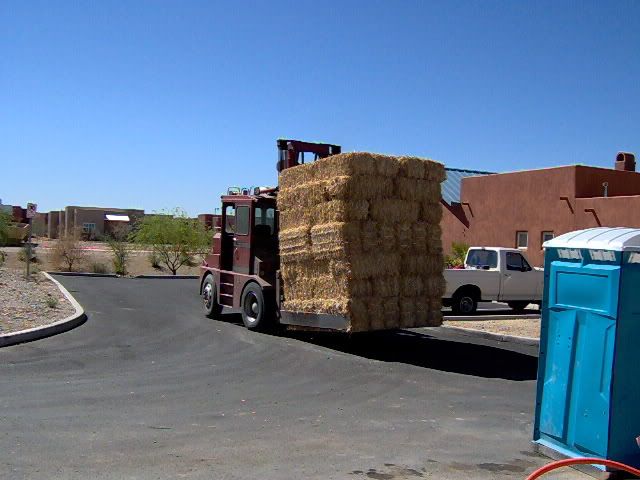 A load of bales. All of these bales won't be used in our house. Haywagon Livestock Supply 4450 S Houghton Rd had their complete order delivered to our house. They will come and get their bales. Worked out great for us.

Somewhere in there is a house--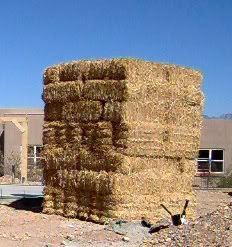 "In every block of marble I see a statue as plain as though it stood before me, shaped and perfect in attitude and action. I have only to hew away the rough walls that imprison the lovely apparition to reveal it to the other eyes as mine see it."
Michelangelo
Your home should be an artistic expression of you. It should reflect your dreams and be the place where you are most YOU. Where you feel safe, happy, surrounded by things that please you. It should be...home.
Until next time..Keep those bales dry! (Especially now!)