The First Little Pig

Despite some early disorganization, we now have walls. (Note to self, next time designate someone, other than us, to project manage.) That's usually my job but due to my other commitments over the last couple of months, I hadn't been as involved in the planning for this event and it it much more than one person can do. Thanks to some very organized friends who also have bale experience (Karen, Cheryl, Robin, we love you guys), and Terri our Custom Bale Crew Chief, and the help of many more friends and some volunteers, it happened. Some people who just stopped by to "Check it out" got into the act! We got started a little after 0800 and were finished by 1130-amazing!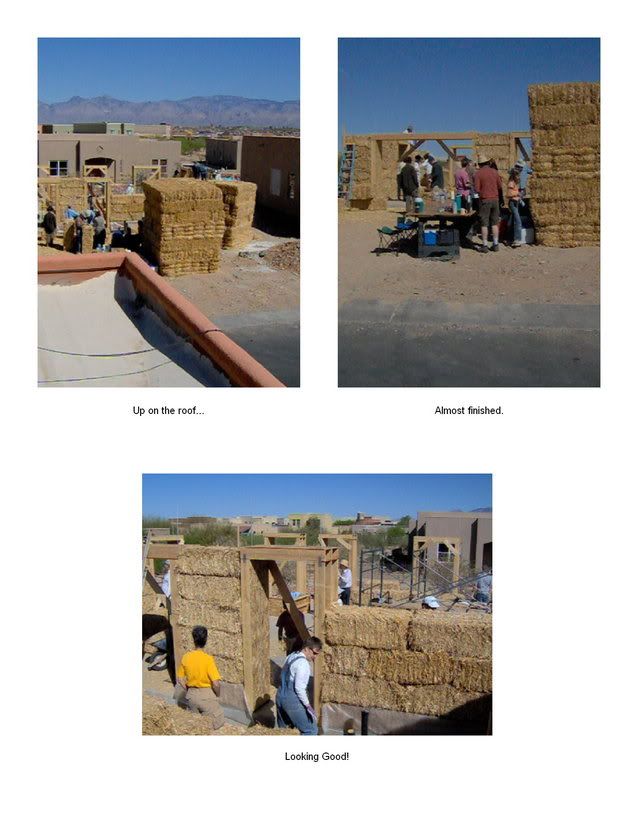 We can't say enough about the response of our Civano neighbors. People brought cold drinks and fresh-baked cookies. Our neighbors, the Simms, gave up their drive-way and the cool shade of their house to a bunch of straw-covered strangers. Jeff hoisted bales and stuffed window boxes all morning. And many just came by to lend encouragement. There's a core of people within Civano who are building community, people who are going that extra step to be a part of something bigger than themselves. We definitely felt that yesterday and hope to be able to return the kindness in the near future. There was a group of about 8-10 school-aged kids who toured by a couple of times-now they have seen a different kind of house building.
That's Casey, our friend and realtor and soon to be neighbor (in the bibs). Without her we wouldn't have known about this great lot.
The Last Bale!

Rick and Cheryl lay in the last bale. Monumental occasion.


.
That's Bill (Southwest Solar) on the phone selling another energy efficient evaporative cooler from atop our strawbale wall.







All work finished in time for a delicious lunch supplied by Rick's Mom, Betty and our long-time friends Connie, Charlie and Lori. What a treat!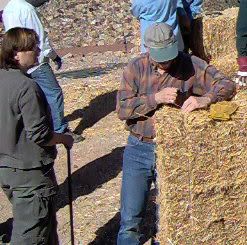 Thanks to Bill and Lucy for staying late and helping with the clean-up. What a help that was.
Building Stage:
Now comes the completion of the roof bearing assembly which affixes to the all-thread and attaches the roof to the foundation. Pretty important piece. The trusses are scheduled to arrive on 4/13 from L&L Truss.