Truss Day (in more ways than one)
And the trusses go up!
After much shifting, sweating, coaxing, pounding, cursing, grunting, groaning, straining and just plain hard work, the RBA was squarelevelplumb and the trusses made their debut. Wow, what a difference that makes! You can also see from this picture that much of the interior framing is completed. Now I can actually get a "feel" for the rooms-and it feels great. We like to say it's "simple, efficient and elegant." No starter castle here. Maybe it should be called the SEE house-SEE you don't need 3000 sq ft and a 3 bay garage to live a happy life.
This house is going to exceed our expectations due to the skill and dedication of Gumbatti Construction. Chris and Nick have worked their behinds off and lent great advice and vision to the project.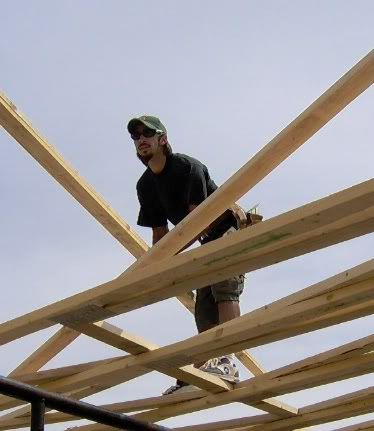 And now for something really different: They return calls and show up when they say they will!!!
Chris (L)
The Flying Gumbatis
You need something built in Tucson, call these guys!
Gumbati Construction 520.907.0099
Nick (R)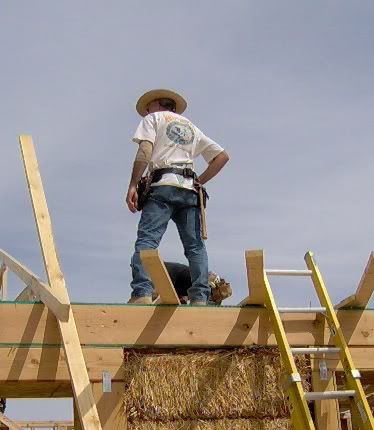 Rick (L)
Master of All He Surveys and Honorary Gumbati
Get to work, Rick!
It couldn't have gone this fast without the continued help and support of Sam and Bill who came and sweated with the guys on truss day! Thanks!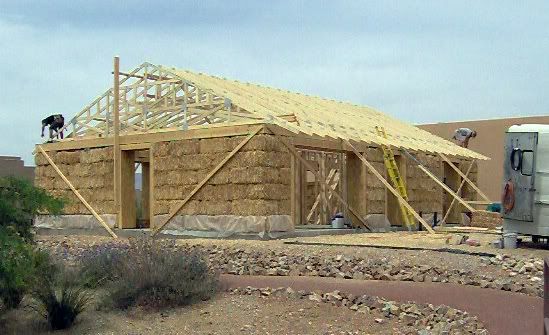 Gumbatis in action-illustrating why construction is a young man's job.
Building Stage: Next it's the roof decking and then on to some clean-up details, window ordering, finishing interior framing, etc. It feels great!
Until next time, Judy