Getting the roof just right...
takes a lot of work. The style of this roof was mostly my idea. I lost the coin toss (I wanted a Dutch hip) and our previous house had a 3 in 12 gable roof. Serviceable and relatively easy to build, but plain. The roof on this house is 5 in 12, with mini-roofs to help protect the east and west walls and space to provide some attic storage. And it just looks cool. The roof will be galvalume (nonpainted metal panels) with gutters to catch the rain. The gables will also be clad with galvalume. To the right is the picture of the north elevation which I promised. It was taken from the common area between houses which includes a pedestrian walkway.
(l) This is the west side again with it's "mini-roof". (Does anyone have an official name for this?)
(below) And the east side with a close-up of the mini-roof. This has been a lot of work. Look at it closely, give it the respect it deserves. I will be paying for this for the rest of my life.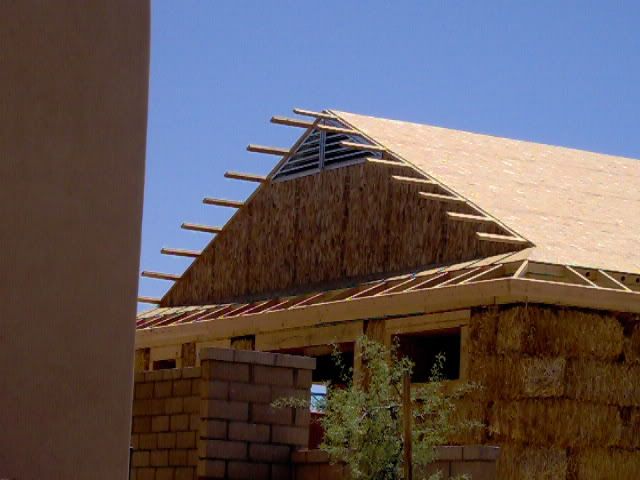 Now we have to begin the second phase of digging, boooring...but it has to be done.
Until next time...