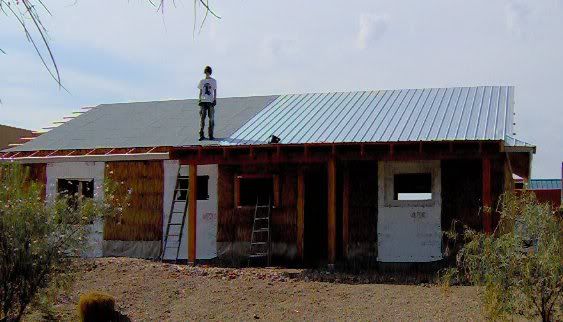 It's a Roof! And a beautiful one, it is.

Let the rains come-however, now that the roof is on, we will probably get no rain. We have had a couple of good gully washers, but nothing the past few days. Some people asked if the rain was a problem for the bales-the short answer, Can Be. Rain that lasts for hours for several days in high humidity areas would be very damaging. The water then has time to penetrate deep into the bales and does not have a chance to evaporate. Here in
southern AZ
where the summer high temperatures are consistently in the 100s and the humidity low, bales will dry out quickly. One (of many) reason we've chosen
earthen plasters
is to allow the bales to "breathe". Many old adobe buildings (unstabilized) have failed after having portland cement stucco and elastomeric paints applied. The
Mission San Xavier del Bac
has undergone extensive
restoration
, part of which included removing cement stucco and reapplying the traditional earthen plaster.

Those of you familiar with building know that no matter the wall material, housebuilding is pretty much... housebuilding. It follows a sequence, site work, foundation, walls, roof, windows doors, then we move inside. The doors and windows have arrived so we can get that started. Things are going well, we're pleased. It will be nice for the guys to get out of the sun and work inside. We are still trying to find a source of clay but have a few leads. We'll find the right people.
One cool thing I found-Tucson now has a HabiStore where they sell construction leftovers and salvage! It's a wonderland of possibilities. We used to have a ReStore in town but not quite sure what happened to that. We bought several things for the previous house there.
I'll leave you with more pictures.