Some work did happen over the weekend
A friend came over and helped me hash out the design for the west wall. And she brought me chai, she fielded questions from curious passersby and we laughed alot-what could be better?
Kiko Denzer
does beautiful work in clay. I can learn a lot from his style. He has a great book on building earthen ovens which I used for the oven we had at our previous home. The book is much more than the mechanics of building an oven-it's about the importance of bread, "the Bread Cycle" and our relationship with the world around us. A quote-"Life doesn't ask us to buy, it asks us to participate-to watch, to learn and to create."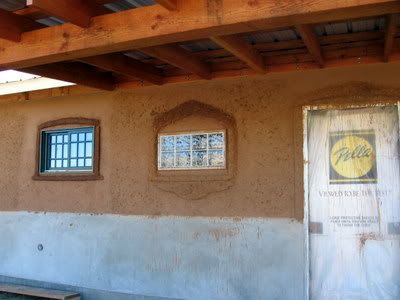 Still working on the buildouts around doors and windows-fun stuff!
This is my bamboo scene-wanted something with plant life but not cactus and coyotes. Digital cameras are so useful because I can study this and see what, if anything, needs to be added. There are also 2 dragonflies that are very hard to see at this angle.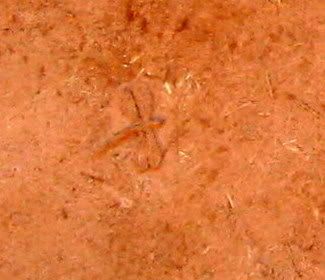 The dragonfly.
The forming for the garage floor is completed and the pour will be tomorrow. We can get that finished quickly. (i know we can, i know we can, i know we can)
And the Gumbati Cons. guys came over to discuss the kitchen, which meant I had to get a final drawing for what we want where. It's such a small space it's imperative that we use it efficiently and I think I have a pretty good desgn.
So things are happening!